We can take your ideas and take them to new heights.
For 15 years our company has created stunning presentations for conferences and product launches, created brand identities and websites for companies and designed advertisements for products and brands that have run everywhere from cell phone screens to the bright lights of Times Square.

Conferences and Presentations
These days everyone knows how to create a powerpoint presentation but to create something truly memorable is something harder to do on your own. Thats why companies use Blink Multimedia when they need to stand out from a crowd. Whether your presentation is in a boardroom to a huge conference hall we have service that fits your needs. If you already have a presentation we can refine your message for maximum impact and optimize it to make the file small and portable. We also have turnkey solutions. We can use software that gives you even more flare and run your show on-site for even more impact. All you have to do is concentrate on making a memorable presentation.
For more information check out Production Services, there you will find out how we can add video elements and DVD production capabilities to your shows as well.
Outdoor Spectaculars
Need to make an impact that is larger then life? We specialize in the creation of advertising for outdoor spectacular digital signs. Over the past 10 years we have created ads that have run on some of the worlds premiere digital billboards. In Times Square NYC : The Reuters Sign, NASDAQ, ABC Supersign, NBC, CBS, Newscorp, MTV and Sharp. Toronto: Titan and Clearchannel in Dundas Square. Portable Screens : The NBA All Star Game, State Fairs and Special Events, Ski Events. We take your concept or idea and realize it in a format compatible with the final playback use. We have templates for all of the screens listed above and have an intimate knowledge of creating content for each venue.
Feel confident that working with our team will yield you fast efficient results. Let us light up your next ad campaign. For some signs we can even broker the time to get you a great deal on an amazing sign. Get in touch with us for more information. Check out our Times Square Demo.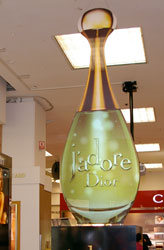 Alternative Marketing
In Out of Home marketing you need to make even more impact to cut throught the clutter. We have experience in making that impact with new tools such as outdoor projection and materials like 3M VIkuiti in order to make an impact and spot people in their tracks. With this type of marketing we like to hear your story and then think of a way to use our toolset to your advantage. You never know what we may come up with to make your brand stand out.
Our team is always trying new things so check back in the demo area often to see what we are up to next.
Blink Multimedia
4130 Treetop Crescent • Mississauga • Ontario • Canada • L5L 2L8
Phone : 416 890-3076
DVD & Video Production • Kiosks • Websites • Conferences • Outdoor Spectaculars